This former emergency room physician and university professor, and current black belt in Aikido, believes we can drastically decrease back pain by improving sitting. How do you improve sitting? By sitting on chairs that move. He doesn't mean a chair with wheels or casters that roll over the floor. Instead, Dr. Osler's talking about a chair that has a movable seat, that allows you to keep making small, continuous postural adjustments while sitting.
What's so cool is that this guy isn't just some ivy tower dreamer. With ingenious geometric insight, Turner came up with an innovative, relatively inexpensive design for dynamic sitting chairs. Working in close collaboration with Uwe Mester, his local Feldenkrais® teacher, he went beyond industrial design to develop a chair that makes sitting comfortable and healthy. Really! When I'm at my high-low desk and I'm not standing, I'm sitting on one of the mechanical marvels, known, collectively, as QOR360 chairs, and all I can tell you is that I feel better after sitting on it.
My chair is furniture-as-mobile, an odd dynamic sculpture given that it's anchored below rather than suspended above. You adjust to sitting on a moving surface by adapting your postural sway, those constant, "Weebles wobble but they don't fall down," just below the threshold of everyday consciousness, micromotions that keep you upright. The thing is an upside-down multidirectional pendulum. That means Uwe and Turner mechanically optimized the surface you're sitting on so that once you've found your "seat," the sweet spot for placing your pelvis, you begin to balance, actively, ongoingly, and, after a while, unwittingly around that balance point, the place where your spine is supported, long, and movable.
This process of recursive equilibrium-finding is necessarily — given the dynamics of the QOR 360 design — limited to relatively tiny movements. Each small self-correction requires harmonizing the way the smallest muscles between your vertebrae engage and differentiating the activation of the muscles of your abdomen and those deep in your belly and groin. This searching for and balancing around the place where the activity of surrounding muscles is equal all around turns out to tune your spine. At least momentarily. Ideal posture is dynamic, every movement — reaching forward or behind, or nodding your head, especially when you're sitting on a so-easily-movable seat — takes you off balance. Sitting becomes active, your pelvis, chest, and head balancing and counterbalancing around your spine, like playing "King of the hill" with yourself. The chair is unmistakable, unqualified physical proof of Moshe Feldenkrais' notion of movability: it helps you find ideal posture, or as he preferred, 'acture,' that place from which you can move in any direction with equal ease and without hesitation. 
The wonderful thing is that Turner is more than an inventor, biomechanist, ergonomist, team builder, and promoter of one of the most incredible lines of chairs e-v-e-r.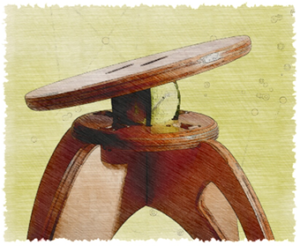 He's a true healthy living evangelist, one who asks us to consider that we could eliminate the modern epidemic of back pain in only two generations if we start by changing how children sit in school. To this end, he is GIVING AWAY the design to a child's chair. It's easy to construct using an innovative screwless, glueless, snap-together design. Even better, it can be made from plywood and a tennis ball for less than $5. As Turner says in his terrific talk, "Finally, High School shop projects can produce something useful."
In case you missed my webinar with Uwe and Turner this past April, you can access the replay of what I assure you is an educational and entertaining webinar here. Just click on link, register for the webinar, and get instant access to the replay.

While I'm on the subject of sitting, let me suggest one other worthwhile TED talk: Rochester Institute of Technology's grad student Pritam Poddar's The Silent Addiction. After starting with a well-known talking point — how sitting is like smoking — he gets into anatomy and then ends up addressing, well, to use the word he uses, pooping. The way Pritam combines his cross-cultural perspective with a down-to-earth functional understanding of human structure and an engineer's penchant for pragmatism is both enlightening and engaging.

Your thoughts?
Please let us know your perspective! Add your comments, reactions, suggestions, ideas, etc., by first logging in to your Mind in Motion account and then clicking here.

Commenting is only available to the Mind in Motion Online community.

Join in by getting your free account, which gives you access to the e-book edition of Articulating Changes (Larry's now-classic Master's thesis), ATM® lessons, and more — all at no charge whatsoever.

To find out more and sign up, please click here.
---
Please share this blog post
---
This work is licensed under a Creative Commons Attribution-ShareAlike 4.0 International License
---
This blog may contain one or more affiliate links. When you click on a link and then make a purchase, Mind in Motion receives a payment. Please note that we only link to products we believe in and services that we support. You can learn more about how affiliate links work and why we use them here