Back in the early 1990s, Larry Goldfarb, CFT, Ph.D., taught Feldenkrais® workshops for physical therapists (and other health professionals) and for the general public at the Bewegungszentrum (Movement Center) in Innsbruck, Austria. During his visits to this charming town, he also gave hands-on Functional Integration® lessons, many of them to children. This generated a great deal of interest amongst therapists, parents, teachers, and pediatricians in the application of Moshe's method to working with infants, toddlers, and older children, which, in turn, led to him offering this eight-day workshop on the topic. 
FOUNDATIONS OF LEARNING is built around a specialized series of Awareness Through Movement® lessons that highlight the early movements of life and explore the transitions between them.     
                 Table of Contents:
EXPLORING THE BABY POSE*

EXPLORING THE BABY POSE CONTINUED*

CIRCLING THE KNEE*

FROG LEGS 

FROG LEGS – Version 2

FROG LEGS – Version 3

TONGUE CIRCLES

SEQUENTIAL ROLLING, LIMBS OVER CHEST 

FLEXING O

FLEXING O CONTINUED 

ROLLING VARIATIONS

SIDE-SIT TO HANDS & KNEES – Complete

COMING TO HANDS & KNEES 

COMING TO CREEPING


 
*The first three ATMs in the series were missing, so they have been replaced with versions of the same or similar lessons that Larry taught at some later time.
To complement the experiential learning from the ATM® lessons and to create a basis for understanding the method, Larry gave a series of talks about the developmental logic of learning, drawing on systems theory, cybernetics, and both the research and theoretical models he was learning about in his graduate program in movement science. To help the participants better observe how children move — and understand what they observe — he taught them how to use SPIFFER, a framework for analyzing movement from a pattern perspective. To help them understand how learning happens, he also presented the 7 Cs, which reveal the teaching tactics of Moshe's method and demonstrate how to use them.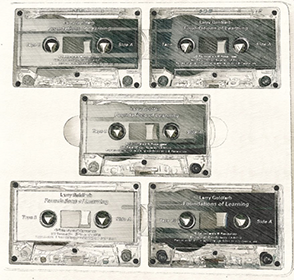 The workshop was recorded, edited, and made available as a collection of 10 cassette tapes. Those tapes have been digitized and the workshop is now available as MP3 files. The sound quality is very good; the hiss from the original recordings has been removed from most of the files. Two of the original ATM lessons were lost or irretrievable, so we added two versions of FROG LEGS to round out the collection. 
One of the participants, physical therapist and Feldenkrais teacher, Daniel Rosenfels took extensive notes during the workshop. The digital version of these notes is included with the recordings. They are not an exact summary of the workshop. Instead, they offer one participant's understanding of the material that Larry taught, adding depth and a different point of view. The notes also cover the parts of the workshop that were not recorded or were lost, giving a full overview of the content.
Edited live workshop plus detailed notes:
14 Awareness Through Movement lessons
6 Talks
For a total of 20 MP3 files available to download or stream for immediate listening
60 Pages of detailed notes (PDF file)
$137


Disclaimer: The Feldenkrais Method® of neurophysical education is presented on this website for educational and entertainment purposes only. The Method and all articles, videos, photos, audio recordings, and documents of any kind available on this website are not intended to be a substitute for professional help or medical treatment. Nothing on this website is intended to diagnose or treat any pathology or disease of any kind. This website, all media files found on it and the creator of any and all of these files, and anyone featured on these files, cannot be held responsible for any injuries or discomfort that occur. Before doing any of the movement lessons described or portrayed on this site, consult your medical practitioner.
Please remember the guidelines:
Stay in your own range of comfort.
Listen to the wisdom of your body.
This is a "NO pain, more gain" approach.
By clicking on the "Buy now" button and purchasing this product, you acknowledged that you have read the disclaimer above.