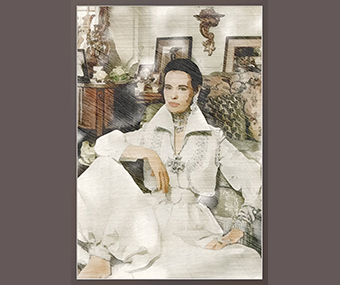 Words to live by: Gloria Vanderbilt
The great battle
Fashion designer, artist, actress, author, socialite, and heiress Gloria Vanderbilt, who survived the high profile custody battle known as "trial of the century" as a child and went on to live a most amazing life, died today at her home in Manhattan. The first wealthy American to transform her family name into a famous brand, Ms. Vanderbilt used her notoriety in the media to build a fashion empire and make her own fortune. She turned her rollercoaster life into a series of emotionally charged memoirs.
CNN's announcement of her demise includes a tender eulogy from her son, the journalist Anderson Cooper:
The report of her passing during National Public Radio's Morning Edition concluded with the following words to live by that Gloria Vanderbilt had painted above her fireplace:
"Be kind to everyone you meet, for everyone is fighting a great battle."

This work is licensed under a Creative Commons Attribution-ShareAlike 4.0 International License
---
This blog may contain one or more affiliate links. When you click on a link and then make a purchase, Mind in Motion receives a payment. Please note that we only link to products we believe in and services that we support. You can learn more about how affiliate links work and why we use them here
---
Please share this blog post:
Your thoughts?
Please let us know your perspective! Add your comments, reactions, suggestions, ideas, etc., by first logging in with your Mind in Motion account. If you haven't created your free account yet, you can do so here.