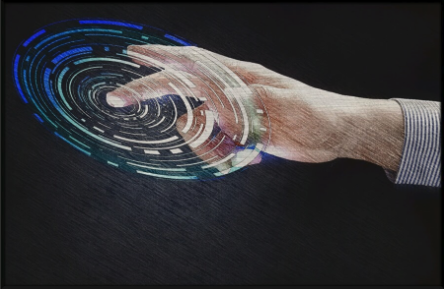 An advanced course for Feldenkrais® teachers & trainees
Once when teaching abroad somewhere he didn't understand the language, Larry Goldfarb was getting interrupted by the translator every time he used the generic phrase "a lesson," which, it turned out, he did quite often. Each time, the translator wanted to know if Larry was to an Awareness Through Movement® lesson or to a Functional Integration® lesson.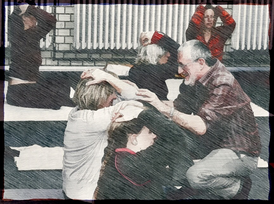 The more he's taught Moshe's method, the more Larry has come to understand these modalities to be the same educational approach applied in different ways. The strategies and tactics are identical; it's the techniques that change depending on whether students move themselves or someone is being guided by a teacher's hands. 
One of the unfavorable consequences of our handy, but ultimately misleading, nomenclature is that few colleagues offer individual ATM® lessons or, if you prefer, "verbally-guided FI® sessions." This kind of convoluted nomenclature is only made necessary when we insist on drawing a solid line between these educational means.
That's why Larry uses the term "lesson" generically and why he prefers to simply say that "It's a lesson."
If we consider Moshe's promise — that we can learn to help ourselves — then one-to-one ATM teaching is a key strategy. It's such a wonderful way to give our students the experience of their capacity to help themselves. It's also great for coaching them in getting better at learning on their own. These things happen easily during an individual ATM lesson and in a small, semi-private class setting. Unfortunately, for whatever reason or reasons,  there are teachers who haven't considered these possibilities or haven't daren't to give them a go . . .  yet.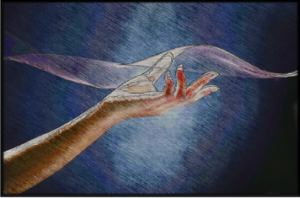 Perhaps it is the numbers game and the desire to get more students to attend their classes that's precluded teachers from realizing the advantages of offering smaller semi-private ATM classes. These benefits include the students getting more personal attention and individual instruction, especially when the class goes slightly longer than the usual hour, and the teacher being able to charge a premium for the tuition.
Perhaps it's because of the notion that "during a hands-on session, we touch but don't talk and during a class, we talk and don't touch." This misguided generalization never described the way Moshe actually taught: he talked during his FI sessions and touched students, albeit selectively and infrequently, during ATM classes. We should also consider those individual FIs during which he guided the student in the manner of a personal ATM lesson. 
Whatever the reason, perhaps this might be the moment to up your game and improve what you offer students. 
If so, then you'll be glad to know we are offering Larry's latest advanced ATM program, IT'S A LESSON (IAL), about how to teach ATM one-on-one well. Whether you are new to doing this approach or you're ready to get better at what you already do, whether your interest is teaching individual lessons or working with a student during a class, IAL covers what you need to know. 
Over three consecutive Sunday workshops, Larry will lay the conceptual groundwork and unpack the practical skills you need to be a more engaging and effective teacher. To make the abstract concrete, you'll watch him give a one-to-one lesson; afterward, you'll debrief what happened with Larry and your classmates and have a chance to get your questions answered.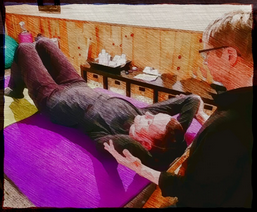 Larry's invited Becci Parsons, a Feldenkrais® teacher and dancer from Seattle who's specialized in giving individual ATMs for over 30 years, to join him for an interview and discussion. She'll be sharing her down-to-earth, pragmatic approach to integrating touch and verbal guidance in custom-designed personal lessons.
During the workshop, you'll get to put the ideas into action and develop your skills. You'll be participating in breakout groups during which you'll be doing interactive learning laboratories with the other participants. In addition, you'll receive recommended videos and readings to expand your learning as well as homework to do between the weekly meetings and after the course is over.
The comprehensive IAL program gives you the opportunity to:
Learn the essential techniques of one-to-one

ATM

instruction.

Discover how individual coaching can empower your students.

Find out what you need to learn and how to go about doing it.

Integrate this approach into your practice.

Become a better

ATM

teacher.
IT'S A LESSON was an online course conducted via the Zoom broadcast platform. 
The audio and video recordings of this recordings are only $297. You will be able to download the recordings from the Mind in Motion Online Multimedia Library and/or stream them directly to the device of your choice. 
The current recordings are available until all the recordings are sold or we reach the deadline, which ever comes first. 
If you still have questions, we have answers. Please check out the IAL FAQ to find out more about this course.
Sorry, this product is no longer available. Check back again soon for other offerings.
Tuition and Participation Policy
There are no credits or refunds for any missed classes.


By registering for this class, you also acknowledge that 20% of your tuition is a non-refundable down payment.


For cancellations between 30 – 7 calendar days prior to the first day of class, 50% of the total tuition will be refunded. No refunds will be given for any cancellations received after 7 calendar days prior to the first class



No-Risk Guarantee: If, after participating in the first day of the course, you let us know that you are not satisfied on or before midnight US California time on 27 March 2020, we will refund 100% of your tuition within 7 business days.
*************************************************
Disclaimer: The Feldenkrais Method of neurophysical education is presented on this website for educational and entertainment purposes only. The Method and all articles, videos, photos, audio recordings, and documents of any kind available on this website are not intended to be a substitute for professional help or medical treatment. Nothing on this website is intended to diagnose or treat any pathology or disease of any kind. This website, all media files found on it and the creator of any and all of these files, and anyone featured on these files, cannot be held responsible for any injuries or discomfort that occur. Before doing any of the movement lessons described or portrayed on this site, consult your medical practitioner.