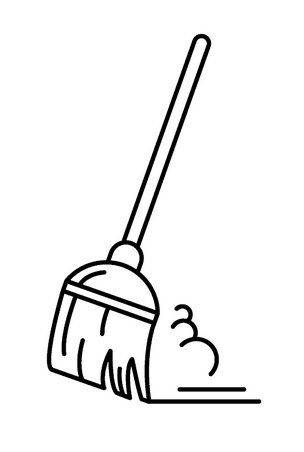 Sweep away the clutter
That complicates our lives
— Ralph Waldo Emerson
In preparation for the New Year, we invite you to participate in our almost annual Winter Awareness Through Movement® workshop.
In recognition of how 2020 brought about unasked-for, sweeping changes for all of us, for our family and friends as well as next-door neighbors and far away former housemates and classmates, this year, Larry is teaching a couple of lessons about the act of sweeping.
Taking to heart the idea that the Feldenkrais Method® of neurophysical learning is a martial art of daily life, these ATM® classes turn the lowly act of sweeping into a laboratory for self-discovery and self-improvement. The complexities of this ability — the orchestration of the limbs, trunk, spine, and head; the dynamics of balancing yourself in motion; the coordination of moving an object to manipulate other objects (as in using the broom to brush leaves, crumbs, or dirt) — make it a perfect framework for learning in a body wise way.
Sweeping Changes offers you a way to:
Release chronic muscle tension.


Improve your flexibility, breath, and strength.


Tap into your potential for learning.


Reinforce your resilience.


Turn your limitations into starting points for change.


Take your learning into life.
Inspired by his Moving in the World of Objects workshop, Larry's innovative Sweeping Changes lessons incorporate the use of a broom. Besides a broom, you'll need a mat or pad to lie on and room to move around while on the floor and standing.
You can participate in this workshop either:
Saturday, 2 January 2021




3:00 to 6:15 PM PST




6:00 to 9:15 PM EST


And on Sunday on the other side of the Pacific



Sunday, 3 January 2021




9:00 AM to 12:15 PM PST




Noon to 3:15 PM EST




6:00 to 9:15 PM in Europe
To find out when the workshop is happening where you are, please click here.
This workshop is happening on Zoom; you'll be able to participate from your smartphone, tablet, laptop, or computer as well as listen in via a regular telephone line. You're encouraged, but in no way required, to turn your camera on so that Larry can see you during class.
One more thing: These lessons in this public workshop are both (1) appropriate for folks experiencing ATM for the first time and (2) engaging and worthwhile for all, from the first-timer to the full-on fan.
In the spirit of the season and out of recognition of the challenges this year has brought upon us, we're letting you Name your price for the tuition.
The audio recordings of the lessons will be available after the workshop, please see below for details. To gain access to these recordings, we ask that you make a payment of $20.21 or more.
Your contribution is appreciated; please pay what you can.
By clicking on this button, you confirm that you have read and concur with the disclaimer below.
Disclaimer: The Feldenkrais Method® of neurophysical education is presented on this website for educational and entertainment purposes only. The Method and all articles, videos, photos, audio recordings, and documents of any kind available on this website are not intended to substitute for professional help or medical treatment. Nothing on this website is intended to diagnose or treat any pathology or disease of any kind. This workshop and the Mind in Motion website, all media files found on it and the creator of any and all of these lessons and files, and anyone featured in these lessons and/or on these files, cannot be held responsible for any injuries or discomfort that occur. Before doing any of the movement lessons described or portrayed on this site, consult your medical practitioner.
Please remember the guidelines:
Stay in your own range of comfort.


Listen to the wisdom of your body.



This is a "NO pain,

MORE gain

" approach.
By clicking on the "Name your price" button and purchasing this course, you acknowledge that you have read and agree with the disclaimer above.

Frequently Asked Questions
When you purchase this workshop, you'll receive two emails. One will be a receipt and the other will be a confirmation of our enrollment. The second email will include a link for registering for the Zoom meeting.
You will have the option of participating online, using the Internet connected device of your choice to see and hear the workshop, or by phone (listening in to the proceedings). 
To participate, you'll need to click on the link in the second email and sign up for the Zoom meeting. You will then receive the link for the workshop along with the passcode for participating. Please add this information to your calendar to have it at your fingertips to log in when the workshop is due to start.
The workshop will start on time, so please log into Zoom a few minutes ahead of time.
Yes. To make the necessary arrangements, please contact MIMO (Mind in Motion online) support by clicking here.
The Mind in Motion team is here to help. Please click here to send us a message and we'll get back to you as soon as possible.

(We're a small team, so please allow up to 48 hours to receive a response from us.)