Due to the global coronavirus pandemic, we have already had to postpone the start of the sixth Amsterdam International Feldenkrais® Teacher Training (AMS 6) twice.
Unfortunately, the situation remains rife with turmoil and uncertainty. In recognition of this situation, we have decided to put AM6 on pause. We will reevaluate our options and update you by summer 2021.
In the meantime, you can:
Thank you for your interest.
Stay safe and take good care,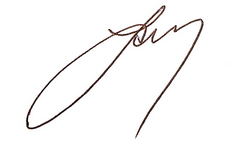 Lawrence Wm. Goldfarb, CFT, Ph.D.
CEO and founder
Mind in Motion
Pace yourself
The curriculum is built around meeting four times a year, allowing for the incremental, step-by-step, progressive development of observational skills, teaching abilities, and theoretical understanding.
Keep the momentum going
Thanks to study groups, free online access to the recordings of the training, and engaging homework assignments that keep you learning between the segments.
Learn without compromise
Rather than being limited to the outdated "lose your mind and come to your senses" of the trainings of yesteryear, the training teaches the explicit learning logic of Moshe's method so you can understand the how and why of the method.
Become a better communicator
Improve your abilities to interact verbally and non-verbally with individuals and with groups.
Make the method yours
The program is built from the ground up so you can benefit from the lessons of the founder's journey by applying them to your life.
Prepare for a new profession
Be ready to teach classes and give hands-on lessons by the time you graduate.
Let's take a deeper look at each of the educational approaches we use in AMS 6.
Awareness Through Movement
During the training, you'll do two Awareness Through Movement (ATM) lessons nearly every day. Most of these ATMs will be drawn from the training programs that Dr. Feldenkrais conducted and the public classes he taught while the rest come from recent developments in the method.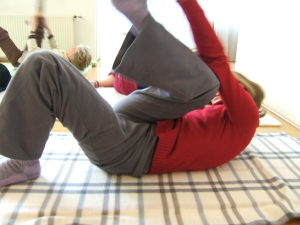 So that you will get the most benefit possible from doing ATM, you begin the training by developing your personal practice of the method. Then, after spending time simply experiencing the lessons, you begin an interactive, lively investigation into how and why ATM works, one that continues over the course of the entire program. This way you have ample time to develop the understanding of lesson structures and strategies needed to become a good teacher.
Because it is important for you to know the full spectrum, you'll experience everything from simple introductory lessons to intricate series of interwoven ATMs. Because it is not enough to read a lesson, you learn how to effectively engage and respond to students, as well as how to talk about and promote the method. You'll learn to teach short mini-ATMs as part of lectures and demonstrations as well as how to present super short five-minute miracles to quickly and effectively communicate the efficacy of the method.
Because we don't artificially separate Awareness Through Movement from Functional Integration (FI), you'll learn how they are just two related aspects of the method, two sides of the same coin, each one illuminating the other.
Functional Integration
No matter what others say, to truly understand the method and practice it well you need to understand the skeletal design of the human body. In AMS 6, you will learn anatomy and biomechanics experientially: through your experience of doing ATM, by touching other students, and by "riding along" while someone else moves.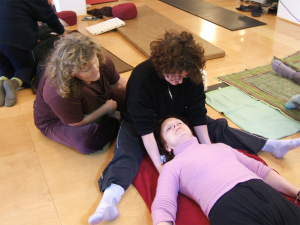 You develop your tactile and kinesthetic acuity by doing ATM lessons and completing assignments in small groups. To understand the teacher's perspective, trainees coach each other in practicing hands on skills and, eventually, giving FIs. Peer supervision provides the basis for giving lessons to the public and prepares you to give lessons under faculty supervision.
All along, you receive the feedback necessary for refining the touch that teaches. As part of the training, you'll receive at least three individual Functional Integration (FI) lessons each year at no extra cost whatsoever. Receiving these lessons – given by members of your trainers, assistant trainers, and other highly experienced teachers – is a central aspect in becoming a good teacher. On top of that, you observe lessons given during class, watch lessons given to your fellow trainees during non-class hours, and review the hours of videos provided free in the training's online multimedia library.
Class discussion
You take part in regular discussions, both in small groups and with the entire class. These discussions vary in style from question-and-answer periods, dialogues, open-ended talks, and conversations oriented around specific topics. They give you a chance to grapple with difficult questions – those without pre-determined answers – and actively investigate them, learning how to deal with novel situations by employing Feldenkraisian reasoning.
Small group exercises
Working in small groups gives you the chance to learn from and with your classmates. They are crucial to developing the understanding and skills needed to teach FI and ATM. In these groups you'll be doing assigned activities such as observing a particular movement, practicing a specific technique, or analyzing a lesson.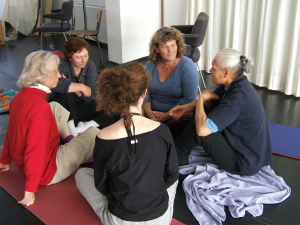 For example, in preparation for teaching an ATM lesson at home between class segments, you'll plan how to present the lesson and practice teaching sections to each other.
We are committed to creating a constructive atmosphere for learning and small groups play a central role by creating a place where each trainee can speak and be heard. They also give you a place to discuss the training process, reflect on what you're learning, identify difficulties, and develop solutions. By drawing on the different skills and background that each member brings, the group becomes a place for collaborative interaction and cooperative learning. We expand beyond the idea of being in a group to learning with a group.
Community Project
During the third and fourth year, you participate in a community-based ATM teaching project. For this project, you prepare a class or, optimally, a series of classes for some group or institution in your community. In this way, while still developing your skills, you have a student teaching situation for testing your abilities, getting feedback, and continuing to improve. The project gives the opportunity to put what you learned to work for the benefit of others, serves as a stepping stone to being paid for teaching classes, and, therefore, provides an important step in becoming known as a Feldenkrais teacher.
Trainees work on the plans, curriculum, and presentation in study groups and with the faculty, thereby giving us another means for keeping alive the topic of the learning of how to teach ATM better beyond the second year of the program.
Support and Supervision
So that we can track your progress through the program, the educational director and faculty get to know each trainee. Observing the ways you learn, interact, and practice in class day by day, gives us the overview needed to assess your progress and nurture your development. That means that supervision, in the sense of watching and guiding, is an ongoing aspect of the program.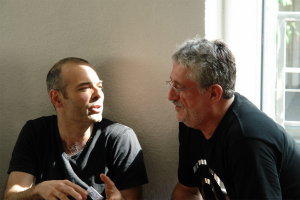 We will be initiating a Big Sister/Brother program where you invite a Feldenkrais teacher you know to be your personal mentor. In exchange for working with you regularly, answering your questions, and supporting your learning, this teacher will be given access to selected recorded materials and homework assignments so that he or she can follow and support your progress throughout AMS 6.
To facilitate your personal learning further, Larry Goldfarb, AMS' educational director, is available to answer questions, discuss your learning process, and provide support via email and virtual office hours. He follows your learning to identify subject areas or skills that need work and to map, in close collaboration with you, a personalized strategy for your development, including individual assignments for learning between segments.
Between segment assignments
The training is designed to facilitate continuous, incremental learning. That means that we are committed to making sure that the intervals between training segments are utilized as part of your ongoing personal and professional development.
To that end, we encourage you to take ATM classes and workshops offered by your local teachers during the interim periods. In this way, you can learn about different styles of teaching and begin to interact with future colleagues. For the same reasons, we also suggest that you receive FIs between segments.
To keep in touch with other trainees and to keep the learning process alive between segments, we ask you to participate in regular study group meetings. These study groups provide a place to do ATM, practice teaching and touching, discuss questions, prepare lessons, and continue learning outside of class.
To deepen your understanding of the method and to strengthen your ability to express that understanding, at the end of each training module we offer both individual and group homework. These assignments include asking you to read articles and books, do movement observation exercises, techniques, experiment with ATM teaching, practice hand-on work, and refine your analytical abilities and communication skills by writing.
You can access and download the audio and video recordings of the entire training for free via our online multimedia library, which provides another way to continue learning between segments. We are constructing an online school that will allow you to share your experiences, realizations, and questions with the other trainees and to get support from the faculty.
Please note:
It's wise to consider the expenses above and beyond the course tuition. Please realize that becoming a Feldenkrais teacher means purchasing books and other educational materials. You might also want to budget for classes and individual lessons outside of the training. Finally, you'll need to purchase a Feldenkrais table along with rollers, pads and a stool, which can cost anywhere to €700 to €1,500.
Year One
From the beginning of training, you start the process of learning through your own experience by doing Awareness Through Movement® (ATM®) lessons. In the first segment, we teach the classics, the lessons that Dr. Feldenkrais relied on most in his lectures and public workshops. For the rest of the first year – and all of the second – the ATMs will map the way coordination and skill matures from infancy to independence. Retracing the ways children learn by exploring the patterns of development gives you chance to move beyond your personal history while revealing the very processes that underlie human learning.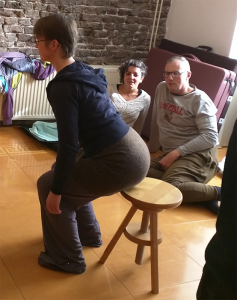 To become a movement detective requires developing and refining your ability to observe with your eyes, hands, and ears. Observing yourself and others, in class and between segments, develops your sensory acuity. You will be studying and applying the SPIFFER model, an explicit framework for investigating movement and understanding the mover. You'll also begin learning basic NLP models and skills – ways to better understand and communicate with others.
In addition you start learning the hands-on work, known as Functional Integration® (FIsm) lessons from the beginning. Because we believe it takes time to become proficient, we don't wait until the second or third year of the training. You practice and refine the essentials of teaching through touch – skeletal contact, tactile tracking, and directional touch. So that you don't hurt yourself helping others, you also begin to learn develop effective self-use, meaning how to move safely and effectively as a teacher.
Year Two
Building on the ATMs from the first year, we continue the developmental theme, moving past the motions of early infancy to explore locomotion and other more complex skills. So that you will be ready to begin teaching ATM at the end of the second year, you study the grammar and syntax of lessons. You practice and improve the skills an ATM teacher needs,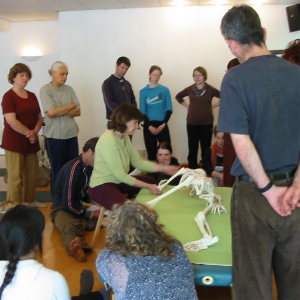 including how to give instructions and guide a group, how to plan and promote a class, and how to make lessons relevant to daily life. And you'll learn the non-verbal and linguistic of patterns of effective communication.
Since giving a good FI requires being able to teach ATM well, and vice versa, we interweave the teaching of these two modalities. The emphasis is not on learning to move others, but on you developing awareness of – and skill in – moving yourself to move someone else. The skills to teach classes and to give hands lessons are fostered in pairs and interactive small groups, providing ongoing, real-time support and supervision.
The second year ends with an ATM teaching practicum during which you receive individual feedback about your abilities and personal guidance in how to continue to develop them. By successfully completing this process, you earn a certificate to teach ATM classes to the public.
Year Three
You continue to connect more of what you're learning about yourself doing ATM to understanding the method and teaching it. Because you have been simultaneously cultivating verbal and hands-on teaching skills from the beginning of the program, we avoid the historically difficult transition from learning to teach ATM to learning to give FIs.
Through structured sequences of assignments, your movement observation and hands-on skills continue to improve. In order to foster real understanding and move beyond simple paint-by-numbers lessons, we explore similar themes in different positions and from varying perspectives. You learn how to help others recognize and remove the obstacles that interfere with continued improvement by facing your own roadblocks, plateaus, and dead end. We give you assignments designed to enhance your problem-solving skills and critical thinking abilities, such as translating an ATM into an FI or finding new ways to do things you already know how to do.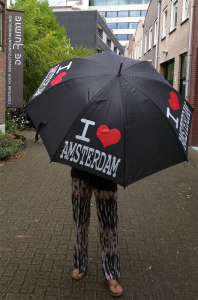 Because we know it takes time to become a competent and captivating ATM teacher, you continue to develop your teaching abilities and presentation skills throughout the third and fourth years of your training. Doing a community project gives you a trial run at preparing, polishing, and presenting a free public class or workshop with the full support of your study group and the faculty. You gather the students' feedback and review it with the Educational Director, reflecting on what worked and what didn't . . . and figuring what you need to learn next. In this way, you learn to become a reflective practitioner at the same time as you start to teach paid classes and workshops.
You'll do more complex and challenging ATMs, including lessons based on the martial arts roots of the method. You have many chances to develop your coordination in surprising and delightful ways. You'll continue to improve your own abilities at the same time as you learn more about helping others improve theirs.
You develop the ability to give lessons by getting better at the full range of Feldenkraisian strategies, schemas, scenarios, and skills. Now that you and your classmates understand the underpinnings of the method, you supervise each other giving FIs.
Year Four
After learning to give FIs in the first three years, the fourth and final year gives you the opportunity to become a better functional integrator. It's time to bring together the models you've learned, the ways of noticing you've developed, and the skills you've honed. We'll go into further depth with the repertoire of lessons you've learned while also refining your ability to find lessons and modify them – or create them – to fit your students' needs.
Building on what you've already learned about articulating and presenting the work, we challenge you to continue improving how you talk about and teach the method. You delve deeper into what makes a lesson a Feldenkrais lesson and into what makes our lessons meaningful and memorable. Reflecting on your personal learning journey – and taking into account what you witnessed of how classmates traveled through the training and all you learned from being a part of their passages – prepares you for understanding and working with the many ways people learn. You'll learn to recognize and effectively and compassionately respond to different learning styles as you master different teaching strategies.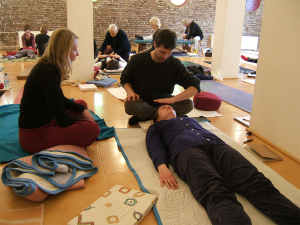 To receive individualized feedback and attention, you collaborate with your classmates, learning from and with each other while, at the same time, also receiving personal support and assistance from faculty. The training ends with an FI practicum during which you are supervised by the faculty giving lessons to people from the general public. This serves not so much as a test, but more a way of getting recognition for what you've learned, building on your competence to develop confidence, and serving as a launching pad for your new career as a Feldenkrais teacher.