ONLINE PROGRAM coming soon
EVERY EFFECTIVE FELDENKRAIS® TEACHER:
UNDERSTANDS what students need to learn, discerns when they are ready, and helps them discover what they need to know.
TOUCHES with a skillful sensitivity that embodies change.
SPEAKS in ways that create distinctions, connections, and possibilities.
GIVES compelling and lasting lessons.
HELPS students triumph over inevitable challenges.
Doing all of this, that is to say, being a good teacher, isn't a natural talent nor is it some kind of mysterious or mystical endowment. Being effective depends on learning and refining an essential set of entirely learnable skills, understandings, and abilities. To be specific, this means to:
Be an astute movement detective.
Understand problems from the pattern perspective.
Cultivate sensitive, meaningful touch.
Utilize precise technique & optimal self-use.
Recognize & respond to roadblocks, setbacks, & breakdowns.
Craft memorable, meaningful lessons.
Facilitate learning over time.
THE TRILOGY is designed to transform your teaching abilities in a series of eight carefully-constructed, quarterly three-day weekends. This convenient format makes it possible to learn the material gradually and progressively take your practice to the next level with minimal interruption to your practice. To support your continued learning between modules, we also include the benefits of Mind in Motion's online school. That means you'll join an exclusive forum connecting you to the other participants and the instructor, receive homework assignments designed to help you apply what you've been learning, and get access to audio and video recordings from previous versions of this course (all at no extra cost)..
Bridging the Gap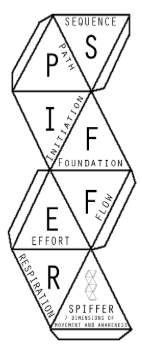 How do Feldenkrais teachers observe and understand action?
How do we engage our students in learning?
There is, for many of us, a gap between what we notice and what we understand, between what we see or feel and what we can say.
In the first module, you'll learn how to span this rift between moving and speaking, noticing and doing by learning SPIFFER. This clear-cut, comprehensive model identifies the seven dimensions of action and awareness. You'll learn to use and understand this model by applying it to watching students, unpacking and teaching ATMs®, and giving FIs®. SPIFFER demystifies movement, giving you a reliable, robust, and unambiguous way to observe and appreciate your students' as well as greater ease responding constructively to what you notice.
Inside Touch
What makes Feldenkrais touch unique and so effective?
In the second module investigate basic hands-on skills — including skeletal contact, directional touch, kinesthetic conversation, the listening hand, and tactile tracking — from an advanced perspective.
You learn to refine and deepen your ability to connect with students by exploring the specific techniques and tactics – from the most basic to the truly advanced – that every Functional Integrator needs to know and use. We'll look at how to give a hands-on lesson when the student is lying supine, prone, and on the side. To improve your self-use, you'll do ATMs that unveil how you engage in touching, clarify the relationship of the hand and arm to the center, reveal your internal strength, and deepen the touch that teaches.
Learning Beyond the Lesson
How do we understand the long arc of learning, from a student's first lesson to when it's time to graduate?
Being a good teacher means more than giving effective lessons; it requires knowing how to support your students' learning over time.
The fourth and final module is about the journey students takes from starting with the Method to no longer needing to have lessons. You'll learn how to prepare students for — and benefit from — the inevitable return of the habit. Find out how to recognize and respond to archetypical phases of the learning journey such as detours, plateaus, and roadblocks. Once you learn the basic learning strategies and recognize them, you can help students learn in the ways that fit best for them while, at the same time, expanding your teaching style. You'll discover what interferes with the transfer of learning and you'll learn the best strategies for facilitating integration.
About the Trainer
Larry Goldfarb is an exceptional Feldenkrais Trainer: highly educated and intellectually rigorous, he is simultaneously a fun, straightforward, and collegial teacher who enjoys nothing more than building confidence through competence. Keeping with his commitment to demystify the method and to empower teachers, Larry has continued to map the territory of recovering and refining human capabilities. He has understood that teaching our students requires more refined and varied approaches and he teaches these in THE TRILOGY.
Feldenkrais Institute of Vienna
Over the past 27 years, Larry has taught THE TRILOGY 45 times reaching well over 1,000 Feldenkrais teachers in a dozen countries on three continents, making this the most popular and attended advanced Feldenkrais training ever.
TESTIMONIALS
"THE TRILOGY lets us get back to the very basis of our learning as Feldenkrais practitioners. It offers a fresh view on what it is that we actually do in ATM and FI. With the SPIFFER structure, what we see becomes clearer and, together with the broad space given for practicing FI, more clarity in touch emerges."
Monika Vogelmann, Physician and Feldenkrais Teacher, Bad Segeberg, Germany
"Larry is a teacher who teaches that it is individuals—and not groups—that learn. Thus learning in THE TRILOGY not only takes place on the actual workshop day but also in the time between the segments. One gets great ideas for one's own process while having a lot of fun learning!"
Corinna Eikmeier, Cellist, Musician and Feldenkrais Teacher, Hannover, Germany
"For me personally, enrolling in The TRILOGY was an important step. Now my work has new quality: I would say much more clarity in how I see and understand the work and teach lessons."
Jacek Paszkowski, Physiotherapist and Feldenkrais Teacher, Warsaw, Poland
"Larry showed me again with how much ease and fun learning can happen!"
Roswitha Rath, Feldenkrais Teacher, Graz, Austria
"Thanks for the different models for guiding the learning process and supporting the communication between practitioners. I have a new, much deeper understanding of the method that is concrete and powerful. It's exciting to now know that my understanding and skills are going to continue to get better and better . . . feels great. I already notice the impact of the 5 days on the ATMs that I gave yesterday and the FIs today – that is amazing, really amazing!
Larry's way of teaching is fun, precise, extremely open and at the same time guided by his past "errors," that he generously shares. I have become aware of the "things that I'll do wrong." It was especially great in the second segment to use simple "well-known" moves in FI as a way to move towards a deeper appreciation of technique, simpler & more efficient self-use, and to improve the quality of the dialogue between practitioner and student."
Lynn Bullock, Feldenkrais Teacher, Paris, France