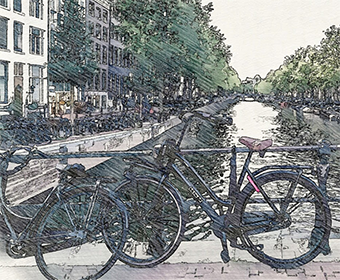 What we practice is what we learn
We've just republished my blogs from the previous version of the MIMO website. You'll find them appended after my more recent posts.
Recently, my friend, fellow Feldenkrais® trainer, and fantastic ATM® teacher, Alan Questel's comments on the original version of this blog post, "What you practice is what you learn," made me wonder whether I'd given as good an explanation as I thought I had. Since I was writing about what may be one of the best ideas I've had about improving how we train future Feldenkrais teachers, I thought it was worth a second go. I hope you think so, too.
Feldenkrais trainees put what they've learned to the test—and, in doing so, become more competent teachers—during the hands-on practicums in the last segments of professional training programs.
During a practicum, members of the general public receive a lesson in a teaching clinic. Every volunteer's lesson is supervised by a faculty member who, after trainees have given their lessons, offers personal coaching on technique, strategy, communication, and pedagogical approach. Faculty members underline what trainees have already learned and are doing well. And they also suggest what needs improving and how, specifically, each trainee can go about improving it.
The first three-quarters of the Amsterdam training curriculum covers what the trainees need to learn to be able to give Functional Integration® lessons. The last quarter of the program is devoted to them learning to give better hands-on lessons and group classes. Among the means and exercises built into our comprehensive curriculum, practicums create real-world situations where trainees can develop their observational acumen, teaching skills, and reasoning abilities.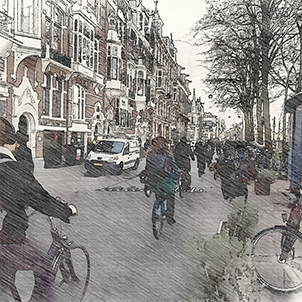 A practicum provides practice in becoming a reflective educator. That is to say, a professional who considers what works and what doesn't, notices the influence of each student's learning strategies, adapts their teaching style accordingly, knows how to use conceptual models, and has developed the means for communicating about our method. Finally, the practicum is another setting where trainees get to further refine the ways they themselves move when giving hands-on lessons.
Well, at least that was what I told myself, until four years ago February, when I was biking home after the Amsterdam training in the evening rush hour and this sentence popped into my head, unbidden and unrelenting:
What we practice is what we learn.
It was like a jingle from a song. I couldn't get it out of my head. What we practice is what we learn. With every turn of the wheel, the phrase returned. What we practice is what we learn.
I start to wonder; I can't help it. What else do the trainees practice? What are the practicums training the trainees to be good at doing?
That's when I got it.
Trainees are only practicing giving first lessons.
That's all that they were getting good at doing. Giving first lessons. Starting. Certainly knowing how to best begin a learning relationship is necessary and significant, but it's nowhere near sufficient for becoming a good educator.
I'm reminded of a friend enthralled with the beginning of relationships, especially the honeymoons, whether accompanied by marriage or not. Without fail, every relationship ends immediately upon returning from that romantic trip. That's all there is: the first chapter over and over.
If trainees are only learning about the first lesson, what are they going to do during the second? How do we prepare them for that?
And what about the third session? And the subsequent ones?
What kind of practicum would prepare trainees for how learning happens over time?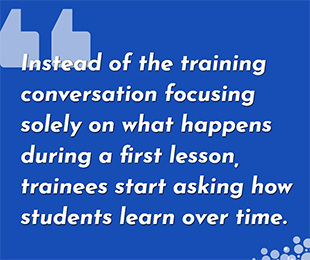 Here is the answer I came up with (which worked so well that's it's become part of the curriculum now): We ask a volunteer to come for three weeks in a row, receiving a lesson each week. The volunteer student works with a trio of trainees, one of whom gives the first lesson, another the second, and the third, the final session the third week. The trainee giving the lesson gets support from the rest of the trio during the lesson; after the lesson, the trio debriefs the lesson with the faculty member who observed the lesson. In many of the trios, the three trainees naturally and easily engage with the volunteer during the initial lesson. Since this is in keeping with the cooperative education approach the training is founded upon, we allowed it to develop, leading to a lively, interactive environment for learning.
What happened next was pretty darn cool. Instead of the conversation focusing on what happens during the first lesson, trainees began asking how to students learn over time.
How do I prepare the way for the next lesson?
What defines a complete lesson?
How do I know when to shift from accompanying and supporting to guiding?
How do I know when to stop? What tells me how much is enough?
How can my lessons build on what the student has already learned?
How do I help students discover, for themselves, what they may have missed? Or have yet to learn?
Dr. Feldenkrais was a judo master, in some ways deeply old school, someone who gave you the direct experience of his knowledge in an implicit manner. He neither talked about his reasoning nor did he lecture on biomechanics, motor development, or any of the other topics that informed his perspective. MF didn't codify, diagram, or explicitly define the systemic models and empirical tools he used to facilitate each student's learning.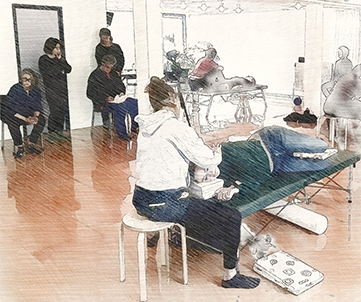 Every challenging, intriguing, transformative sequence of movement lessons was composed according to MF's inherent understanding of how we learn over time. Though he declined to delineate exactly how learning happens within a lesson and, especially, across lessons, we can only understand Moshe's method if we consider learning as an ongoing, iterative process.
After the lesson is over and the student has gone, we reflect on the student's learning. That's when this unfolding process appears, when the workings-of-the-method-over-time are made manifest, when the dynamic nature of learning becomes significant and self-evident. We trace what happened during a lesson as part of following the arc of the student's learning across a sequence of lessons. Once trainees can recognize the intersections, roadblocks, plateaus, detours, and dead ends that comprise the learning journey, they are on the way to mapping the iterative ongoing process of learning and becoming better guides for their students.
If you're a trainee looking to make up missed time, a new graduate wanting more support to get started, or an experienced teacher ready for a deeper understanding, there are a few spaces available in the Amsterdam V practicum this summer.

This work is licensed under a Creative Commons Attribution-ShareAlike 4.0 International License
---
This blog may contain one or more affiliate links. When you click on a link and then make a purchase, Mind in Motion receives a payment. Please note that we only link to products we believe in and services that we support. You can learn more about how affiliate links work and why we use them here
---
Please share this blog post:
Your thoughts?
Please let us know your perspective! Add your comments, reactions, suggestions, ideas, etc., by first logging in with your Mind in Motion account. If you haven't created your free account yet, you can do so here.