These days, after I finish teaching an Awareness Through Movement® class at a Feldenkrais® Teacher Training program, it's not uncommon for one of the participants to ask, 
"What number is that?"
The question would seem out of the blue if I didn't know that the asker was curious about which of the 550 published transcripts was the source of what I'd just taught. Because these transcripts chronicle the public classes Moshe Feldenkrais taught on Alexandar Yanai Street in Tel Aviv from the 1950s through the 1970s, we refer to them as the AY lessons. They are the largest, most wide-ranging, and comprehensive collection of MF's incredible creativity and ingenuity.
The AY numbers have become part of the professional parlance, aka jargon, of contemporary Feldenkrais teachers and practitioners. For instance, referring to the next lesson I'll be posting here, CHANUKIA, THE CANDLE HOLDER, as AY 18 means that you're "in the know." 
Talking to trainer colleague and friend, Deborah Bowes, earlier today about being asked what number lesson we'd taught reminded me of a strangely prescient joke that MF told, if I'm not mistaken, in the summer of 1981, during the second summer of the Amherst training. Let me know if you think this funny story doesn't make you wonder if, just maybe, he had some kind of hint of what's to come long after he's gone:

After the last performance of the day, the circus performers and crew sat down for their customary late-night supper. It was barely a few minutes before the ringmaster stood up to say, "17," at which point nearly everyone started laughing, long and hard.
That is to say everyone but the lion tamer. This being his first day with this circus, he was more than a little bit confused by this rather odd behavior. As he scratched his balding head, wondering what just happened, one of the acrobats lept onto her chair and said, just loud enough for everyone to hear, "79," at which point everyone started to giggle uncontrollably.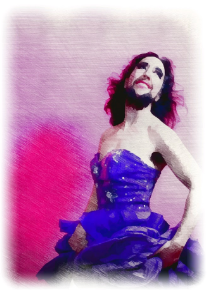 That's when the lion tamer leaned over to the bearded woman sitting next to him to ask, "What's going on here?"
She responded, "We've been together so long, we know all of each other's jokes already."

Puzzled all the more, the lion tamer replied, "What?"
"Because we know them so well we spare ourselves the trouble of telling a gag again or the bother of listening all the way through one more time by just referring to its number."
Marveling at the efficiency of this system and wanting to fit in with his new co-workers, the lion tamer stood up slowly and said, "42."
No one laughed or giggled. Or even smiled. 
The lion tamer sat down, slid down low into the chair, and, turning to the Bearded Lady with a mournful look of betrayal, muttered, "It's not fair to make fun of the new guy. You set me up."
Protesting, she responded, "No, I'm not putting you on. It's true."
"I don't believe you. No one laughed."
"Oh, well, that's not our fault . . . You just don't know how to tell a joke."

This work is licensed under a Creative Commons Attribution-ShareAlike 4.0 International License
---
This blog may contain one or more affiliate links. When you click on a link and then make a purchase, Mind in Motion receives a payment. Please note that we only link to products we believe in and services that we support. You can learn more about how affiliate links work and why we use them here
---
Please share this blog post:
Your thoughts?
Please let us know your perspective! Add your comments, reactions, suggestions, ideas, etc., by first logging in with your Mind in Motion account. If you haven't created your free account yet, you can do so here.