Some people would say I was a fool, taking such a big risk. Truth be told, I hadn't even considered that something could go wrong.
Last month it was time for the trainees of the current Amsterdam Int'l Feldenkrais® Teacher Training to give hands-on–or Functional Integration® (FI®)–lessons to members of the general public. Each of the public volunteers would receive one lesson a week, three weeks in a row. A trio of trainees would work with one volunteer, each giving one of the weekly lessons, getting support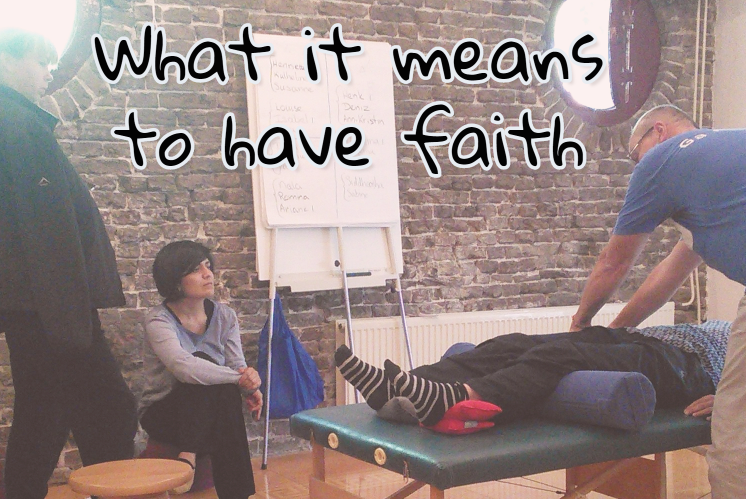 from the others during the practicum, and then receiving feedback from me or another member of the faculty afterwards.
When someone who'd inquired about joining the next training asked if she could participate in the practicum, I said yes without a moment's hesitation. It didn't cross my mind that I was taking a big chance, that her experience of the trainees and the lessons she received from them would, one way or another, influence her decision about enrolling.
It's funny: not doubting, having faith, believing in what we're doing. I know that the training curriculum works. When the trainees have learned how to give FIs 3/4s of the way through the training, then they have time to get to improve and to develop the ability to give even better lessons. In other words, I know, after having followed it enough times, that this educational design actually works to prepare people to be effective Feldenkrais teachers.
I also know that this approach is not only one man's magical touch, but a methodology that is learnable. What's more, from following the trainees through their thrills, challenges, discouragements, discoveries, and personal triumphs, I know that each of them has developed true competency in Moshe's method. Every one of them is a better teacher now than I was at the end of my training. None of them is a copy of him, me, or anyone else. Each of them is already well on the way to making the method theirs. I'd told them all of this before, but I knew that they wouldn't believe it coming from me.
That's why the practicum is so significant. Since the faculty works closely with the trainees every day, we don't need it to assess how they are doing. Sure, the practicum is an opportunity to acknowledge what the trainees have learned and provide guidance about what, exactly, each of them need to improve. Most importantly, the practicum is a kind of ritual, a rite of passage. By giving lessons to a volunteer, observing the person's progress over those three weeks, and noticing how each of their lessons contributes to this student's learning, the trainees realize what a difference they can make and recognize how much they've learned.   
I wasn't concerned because I had no reason for apprehension, anxiety, or alarm. My trust in my trainees' abilities was evidence based. I'd witnessed each one of them learn, develop, and grow. It simply hadn't crossed my mind that I had reason to doubt. I guess that's what it means to have faith.

Though I was happy, I wasn't surprised when, a week after the practicum, that same volunteer wrote an email to the office to let us know she's ready to start the new training in November.
---
This work is licensed under a Creative Commons Attribution-ShareAlike 4.0 International License
This blog may contain one or more affiliate links. When you click on a link and then make a purchase, Mind in Motion receives a payment. Please note that we only link to products we believe in and services that we support. You can learn more about how affiliate links work and why we use them here. Mind in Motion Online is a participant in the Amazon Services LLC Associates Program, an affiliate advertising program designed to provide a means for sites to earn advertising fees by advertising and linking to Amazon.com.
---
Share this blog post:
Your thoughts?
Please let us know your perspective! Add your comments, reactions, suggestions, ideas, etc., by first logging in with your Mind in Motion account. If you haven't created your free account yet, you can do so here.