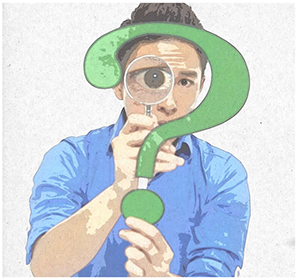 Making it possible for students who couldn't physically attend my almost annual Feldenkrais® summer camp got me to start teaching Awareness Through Movement® online many years ago. Little did I know that figuring out how to make distance learning work would turn out to be the perfect preparation for the pandemic. By figuring out how to make it work, just so you know, I mean making plenty of mistakes with the technology and the teaching challenges, especially the ones I hadn't even recognized at first.
But what about working with individuals via the Internet?
My first thought was to give individual ATM® lessons online. An integral part of my approach with the students I work with one-on-one has long been to assign homework. Often, though far from always, that consists of teaching them some short snippet of a lesson. Not only can I help the student understand the steps and their aim — what the ATM is after and why — but also with becoming aware of the way in which they carry out the instructions — the all-important how. By returning to these simple actions over time and incorporating them into everyday tasks and skills, the student and I create a mutual measure of their progress.
It turned out that something more was happening. The lessons that were rhetorical for a group became conversation starters. Well, that's not quite right. They were more than that: ways to get to know and understand each person better. Then I made a shift from taking someone through a lesson to teaching them to work with and on themselves. That's when the students who had been coming for a while started to say they felt what they felt when I had, in pre-pandemic times, touched and moved them. 
What to call this?
We'd already come a long way from marking the distinction between floor and table lessons, both terms being far too limiting and, therefore, quite misleading. Even so, I stumbled with the terminology.  Transitioning the classes and workshops I taught when we were in the same place to a virtual classroom disrupted expectations, required respecting and utilizing constraints, was not exactly the same but, then again, not totally different. In other words, I am still teaching Awareness Through Movement. 
The term for individual work — Functional Integration® lessons — referred to working hands-on. This new-fangled, at-a-distance, touchless kind of session seemed like another category altogether. At first, I stumbled, was this an online ATM, or was it a distance FI®? 
It didn't seem like either. I found myself wanting to call this way of working Option Three. 
That was until I realized that it was nothing new. 
Moshe's promise, the basis of his methodology, is that we can help ourselves. My job, as a Feldenkrais teacher, is to help each student help themself. It's what drew me to this approach and fueled my inspiration — working with myself and with others, teaching students and training teachers, creating community — all these years. Talk about developing human potential!
Whether we're in the same room or not — whether I am moving you with my hands, or you are either moving yourself or you're touching and guiding yourself with your own hands — an individual lesson is an individual lesson. Meaning no matter the style or the medium, an individual lesson is an FI.

If you would like to learn more about what I mean by learning to work with yourself, you might like to give a listen to the short lesson we added, IMPROVING THE BREATH BY INTERFERING, to the free classes in the Mind in Motion Online Library.  (This mini ATM is the only part of last month's webinar, Breathing Space, that we are making available, and that's only if you have an account on our website.) I have to warn you that there are a few short fuzzy sections I couldn't clean up; even so, I think it is still quite easy to understand. If you're willing to forgive these imperfections and you've got 23 minutes and 14 seconds, you may find the exploration worthy of your time. 
You'll have to

log into your MIMO account

for the link above to work.



If you haven't signed up for your free account yet, please

click here

.


Should you have any questions about getting started, please click here to contact the support team.


Your thoughts?
Please let us know your perspective! Add your comments, reactions, suggestions, ideas, etc., by first logging in to your Mind in Motion account and then clicking here.
Commenting is only available to the Mind in Motion Online community.
Join in by getting your free account, which gives you access to the e-book edition of Articulating Changes (Larry's now-classic Master's thesis), ATM® lessons, and more — all at no charge whatsoever.
To find out more and sign up, please click here.
---
Please share this blog post
---
This work is licensed under a Creative Commons Attribution-ShareAlike 4.0 International License
---
This blog may contain one or more affiliate links. When you click on a link and then make a purchase, Mind in Motion receives a payment. Please note that we only link to products we believe in and services that we support. You can learn more about how affiliate links work and why we use them here