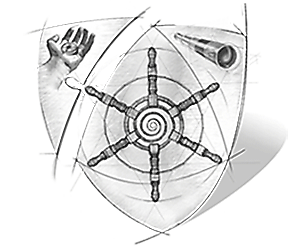 THE TRILOGY is the best known, most attended Feldenkrais® postgraduate program in the world.
Well over 1,000 Feldenkrais teachers in a dozen countries on three continents have participated in the 45 times Dr. Goldfarb has taught this program over the past 27 years. During that time, the course has deepened and grown, thanks to listening to the participants' feedback, responding to questions from the graduates, and following how they use what they've learned. To incorporate these refinements, extensions, and improvements, the program expanded from three modules to four. The newly updated, in-depth Laguna Beach program consists of eight quarterly sessions for a total of twenty-four days of advanced training.
Even though THE TRILOGY now consists of four modules, it continues to address the same three down to earth and fundamental concerns:
How do you observe, understand, and talk about movement in a Feldenkraisian way?
How do you touch so that students become aware of themselves and improvement becomes possible?
How do you teach effective, relevant, and lasting lessons?
Our comprehensive curriculum is carefully paced. Each module builds on what you learned in the last one and have been applying, testing, and making your own since then. The emphasis of the course is on developing your skills and making them second nature, that is to say, developing your intuition. Not only will you be doing ATM® lessons and analyzing them, practicing FI® to refine technique and improve self-use, and participating in the class exercises during class, but we also provide the self-study guidelines and between module assignments to support your continued learning between classes. Not only does the course develop your professional expertise, but it also addresses how to deepen your personal practice.
The curriculum is designed so that you build on what you learned in your training, fill in what you missed, expand your ability to notice and to understand what you observe, refine your teaching abilities, and develop deep insight into the thinking behind Moshe's method. The explicit models you'll learn to use and apply, such as SPIFFER, The Bulls-eye, Floorplans, and Seven Cs, are a crucial and unique aspect of THE TRILOGY. They demystify the method, making it understandable, creating a framework for communicating with others, and providing the means to continue to improve on your own.
When you sign up, you'll be enrolled in our online school, which is where you'll find homework assignments, announcements, and course information. This also gives you access to our multimedia training archive (including audio recordings, video files, and digital documents from previous courses) and to an electronic forum exclusively for you and your classmates. Once you successfully complete the program, you'll become a member of the international community TRILOGY graduates and, like them, you'll be using all you learned to be the teacher you always dreamed of being.
THE TRILOGY in Eight Parts
Weekend format
15 to 17 March 2019
14 to 16 June 2019
13 to 15 September 2019
17 to 19 January 2020
24 to 26 April 2020
17 to 19 July 2020
11 to 13 September 2020
08 to 10 January 2021
FRI 1:00 to 7:45 PM
SAT 1:00 to 7:45 PM
SUN 9:30 AM to 2:45 PM
NEW SCHOOL OF STRUCTURAL INTEGRATION
1027 North Coast Highway, 2nd floor
Laguna Beach, CA 92651
You can pay your tuition of $3,497 all at once . . .
Or make 24 monthly payments of $162
By choosing our convenient payment plan option
(for a total of only $3,888)
Space is strictly limited to 18 participants.
Please sign up now to reserve your place.
Tuition and Participation Policy
There are no credits or refunds for any missed classes.
By registering for this class, you also acknowledge that 20% of your tuition is a non-refundable down payment.
Cancellation between the day of enrollment and up to 31 (thirty-one) days before the first class, your tuition minus the down payment will be refunded.
Cancellations between 30 – 7 calendar days prior to the first day of class 50% of the total tuition will be refunded.
No refunds will be given for any cancellations received after 7 calendar days before the course begins.
No Risk Guarantee: If, after attending and participating in (at least 70% of) the first 3-day module of THE TRILOGY, you decide that you do not want to continue, we will refund 100% of your tuition within 7 business days.