Whether you're wanting to improve your understanding of ATM®, looking for inspiration in teaching, or seeking practical examples — and some personal guidance — in classes online, Larry is offering a BACKSTAGE PASS to the debut of his Threshold to Transformation (TTT) program.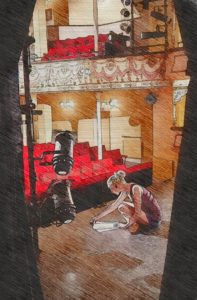 This program is available exclusively to Feldenkrais® teachers and trainees. You're invited to join Larry and a select group of intrigued, interested colleagues to debrief what happened during each class, decode the ATMs, and discuss the pedagogy. You'll have a chance to participate in the conversation, consider the lessons, unpack what makes each ATM work, examine why they work so well together, and develop a deeper appreciation of the strategies, tactics, and techniques that comprise Moshe's method.
Larry will let you in on his process of developing these lessons and constructing the curriculum.
And he will support you in fleshing out your insights, developing your way of understanding, and integrating what you're learning into your personal ATM practice, classes, and creative process.
TTT BACKSTAGE PASS sessions last an hour and three-quarters and include a fifteen break. Breakout sessions will be a part of these meetings as well.
Pacific Rim group
Fridays from 5:00 to 6:45 PM US Pacific time
24 April 2020
01 May 2020
15 May 2020
22 May 2020
Americas and Atlantic group
Saturdays from 10:00 to 11:45 AM US Pacific time
25 April 2020
02 Mayl 2020
16 May 2020
23 May 2020
To find out when these meetings are happening in your timezone, please click here.
To ensure that you'll get plenty of chances to participate, as well as ample opportunity to receive individual coaching, each TTT—BP group is strictly limited to only 15 participants.
As with all of Mind in Motion's courses, the sessions will be recorded and the recordings will be available soon after each meeting. The recordings are included in the price of your tuition (an $87 value) at no extra charge whatsoever. Even if you can't attend every rendezvous, you'll be able to send your questions ahead of time and then access the recordings afterward.
We recognize that this worldwide upheaval has created financial uncertainty and hardship for many. That's why we're offering two tiers of tuition; full fare and reduced tuition. Please sign up according to your ability to pay — this process is based on the honor system:
    Full fare: $197
Reduced tuition: $137
Registration is on a first-come, first-served basis. Your tuition includes access to the audio recordings of the lessons at no extra charge whatsoever. 
Won't you join us for the next step in your learning?

Please note that participation in the TTT BACKSTAGE PASS requires enrollment in the Threshold to Transformation program.
You will be taken to the TTT registration page first.
After you've signed up for TTT, then you will be able to enroll in the BACKSTAGE PASS program
Tuition and Participation Policy
There are no credits or refunds for any missed classes.
By registering for this class, you also acknowledge that 20% of your tuition is a non-refundable administrative fee.
Cancellation between the day of enrollment and up to 31 (thirty-one) days before the first class, your tuition minus the down payment will be refunded. Cancellations between 30 – 7 calendar days prior to the first day of class 50% of the total tuition will be refunded.
No refunds will be given for any cancellations received after 7 calendar days before the course begins.
No Risk Guarantee

: If, after attending and participating in the first week, you do not want to continue, and if you notify the Mind in Motion office via email on or before noon US Pacific time on 27 April 2020, we will

refund 100% of your tuition no questions asked

within 7 business days
To sign up for the course, you must agree to the participation agreement before you are taken to the payment page.

Even if you don't enroll in the Backstage Pass, I encourage you to sign up for the Threshold to Transformation. The new ATMs are remarkably effective, both in terms of improving abilities and in terms of developing and deepening awareness. I'm excited to be sharing these new lessons with you!