Threshold to Transformation
This new series of Awareness Through Movement® lessons uses an ordinary doorway as a tool for extraordinary change.
You'll learn eight unique processes that harness the principles of neurophysical learning to activate your innate ability to transform how you sit, stand, and move. Each ATM® shows you another way to be comfortable in your own skin and to take care of yourself.
Each easy-to-do lesson is designed to:

Uncover your blind spots.


Increase your movement vocabulary.


Realize your innate potential.


Revive your flexibility.



Improve your coordination.
There'll be time to get your questions answered during and after each lesson. After the lessons, you'll find out how to transfer what you've discovered to your everyday life. What's more, you'll have access to an online group to share your queries, challenges, and revelations with the other participants. And you'll receive the recordings of the lessons so that you can review and redo the lessons at your own pace, whenever and wherever you like.
This comprehensive program was developed by movement scientist, author, international lecturer, and Feldenkrais® teacher, Larry Goldfarb, Ph.D. Dr. Goldfarb developed these lessons with his students over the last 37 years.
They've played a central part in the home program he created for them and in his personal practice, especially in his recovery from surgery in recent years.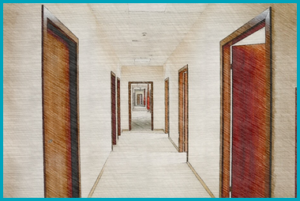 Because of the near impossibility of finding a room full of doorways, Larry has never been able to teach these lessons in a classroom setting. The advent of online learning created the perfect opportunity for offering these classes.
What's even better, you'll get to learn how to use these processes for yourself in the comfort of your own home. Plus, each lesson will include a lab designed to help you take your learning from the lesson into life.
Prerequisites
No previous

Feldenkrais

experience required.


A computer, tablet, or mobile phone with a working camera and microphone. (You will need to be on camera so that you can be seen.)


Loose comfortable clothing that allows you to move easily.


A doorway wide enough to stand in comfortably and narrow enough to touch easily with your elbows and forearms



A chair with a back and without arms (or wheels).
Schedule
Classes meet for at least 90 minutes on eight Tuesdays and Thursdays with a break in the middle of the schedule for the Feldenkrais Awareness® Summit1 (Affiliate link), which happens from 1 to 10 May 2020.
Here's the schedule for TTT classes:
| | | |
| --- | --- | --- |
| Week of: | Tuesday  | Thursday  |
| 20 April | TTT ATM 1 | TTT ATM 2 |
| 27 April | TTT ATM 3 | TTT ATM 4 |
| 4 May | Summit | Summit |
| 11 May | TTT ATM 5 | TTT ATM 6 |
| 18 May | TTT ATM 7 | TTT ATM 8 |
You can sign up for any of these three class times:
10:00 to 11:30 AM US Pacific
1:30 to 3:00 PM US Pacific 
5:00 to 6:30 PM US Pacific
Enrollment is strictly limited to a maximum of 24 participants in each class. 
Should anyone want to attend during a different time than the one they signed up for, their participation in a different class is on a space-available basis only and, therefore cannot be guaranteed. Everyone will, regardless of the tuition they choose, receive access to the recordings of each lesson and lab (see below).
1 *All of the links in this blog post are affiliate links, meaning that Mind in Motion will be remunerated for any purchase you make when you click on the link. This in no way increases the price you pay.
The  funds we receive contribute to the costs of "keeping the lights on." They help make it possible to offer free resources, such as the Lesson Locator and the hundreds of transcripts on the MIM Online website, and realize our commitment to fostering an international community of learners.
If you prefer to register for the Summit without contributing, please go directly to:
https://feldenkraissummit.com/
Tuition
We recognize that this worldwide upheaval has created financial uncertainty and hardship for many. That's why we're offering two tiers of tuition; full fare and reduced tuition. One third of the spaces in each class are reserved for the lower price. Please sign up according to your ability to pay — this process is based on the honor system:
Full fare: $177
Reduced price: $127
Registration is on a first-come, first-served basis.
Recordings
Your tuition includes both the live classes AND access to the audio recordings of all eight lessons and labs (an $87 value) at no extra charge whatsoever. You'll be able to download or stream them from the Mind in Motion online site.
Please note:
This is the international debut of Threshold to Transformation — it's meant to be a live event, one that offers a sneak peek at Larry's latest creations. That's why we are making the audio recordings of the Awareness Through Movement lessons available, at this time, only to those who enroll in the course.
Want to learn more?
If you'd like to learn more about this practical, down-to-earth program, find about the accompanying course for Feldenkrais teachers and trainees, and experience this unusually effective way to change yourself, please join me for one of two free Zoom meetings. Please click on either date and time below to sign up:
Please take note: My most recent free Zoom meeting maxed out with 100 participants, meaning anyone who tried to join after that many people had logged in was locked out. So to make sure there's room for you, I encourage you to sign in a few minutes before the meeting starts.
If you've signed up for the meeting and it turns out that you can't attend one of these meetings, for whatever reason, I'll let you know how to access the recording. (I'll also post a link to the recording here.)
Tuition and Participation Policy
There are no credits or refunds for any missed classes.
By registering for this class, you also acknowledge that 20% of your tuition is a non-refundable administrative fee.
Cancellation between the day of enrollment and up to 31 (thirty-one) days before the first class, your tuition minus the down payment will be refunded. Cancellations between 30 – 7 calendar days prior to the first day of class 50% of the total tuition will be refunded.
No refunds will be given for any cancellations received after 7 calendar days before the course begins.
No Risk Guarantee

: If, after attending and participating in the first week, you do not want to continue, and if you notify the Mind in Motion office via email on or before noon US Pacific time on 27 April 2020, we will

refund 100% of your tuition no questions asked

within 7 business days
To sign up for the course, you must agree to the participation agreement before you are taken to the payment page.