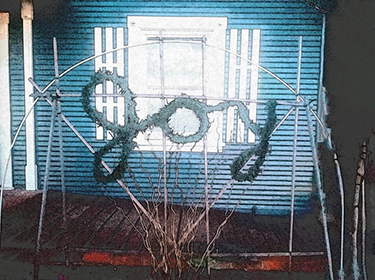 There's nothing quite like it. How you feel at the end of a Feldenkrais lesson: renewed, more at home in your body, capable. 
Ever since I stood up and walked around after my first class, I marvel at the surprising shifts each ATM brings. It was the summer I turned 18, which means I'd been wearing glasses already for 11 years. 
We rolled around on the floor, exploring movements from early childhood for an hour or so. The teacher hadn't addressed me directly. He left me and everyone else to our own devices. The movements were unusual, which made me curious. The more engaged I became, the more fun I had. Somehow, by following directions and taking heed of how I executed them, the odd, often challenging movements got easier. I was becoming more coordinated. By the end of the class, I couldn't help but notice how much more of me was lying on the floor and lying noticeably more comfortably.  
When I stood up, I felt taller. There was something profoundly gratifying about the experience. I was appreciably more comfortable in my skin. 
I went outside for a short stroll in the woods of western Massachusetts. It was several minutes before I realized I'd forgotten my glasses. I couldn't remember ever having done that, not even once. After years of feeling utterly dependent on my glasses to see and having recurrent nightmares about going blind, there I was: grounded, at ease, and reveling in all I saw, rejoicing in the verdant, vibrant visual world. 
How I moved had changed, as had my attitude toward myself. What was most impressive is that I brought this transformation about myself.
If you have ever experienced a Feldenkrais lesson for yourself, you know what I'm talking about, don't you? There is nothing like how developing your physical competence fosters confidence.
It's too good to keep to yourself.
That is why we are making it easy to share the joy of learning this holiday season. We just added a Give as gift button to most of the items available in the Mind in Motion Shop. Fill out the form to let us know who the giftee is and when you want your gift to arrive, complete the purchase, and we'll take it from there.
Please take note: We're having a flash sale from 3:00 PM Pacific time on 1 December 2021 to 3:00 PM Pacific time on 3 December. For the next 48 hours, every gift purchase you make receives an automatic 33% discount (applied at checkout).

Your thoughts?
Please let us know your perspective! Add your comments, reactions, suggestions, ideas, etc., by first logging in to your Mind in Motion account and then clicking here.
Commenting is only available to the Mind in Motion Online community.
Join in by getting your free account, which gives you access to the e-book edition of Articulating Changes (Larry's now-classic Master's thesis), ATM® lessons, and more — all at no charge whatsoever.
To find out more and sign up, please click here.
---
Please share this blog post
---
This work is licensed under a Creative Commons Attribution-ShareAlike 4.0 International License
---
This blog may contain one or more affiliate links. When you click on a link and then make a purchase, Mind in Motion receives a payment. Please note that we only link to products we believe in and services that we support. You can learn more about how affiliate links work and why we use them here