The times they are changin'
— Bob Dylan
How do you find your way in these turbulent, uncertain times?

Reestablish a sense of balance?

And access your inbuilt resilience?
One answer to these timely questions lies in the relationship between the dynamic design of your musculoskeletal framework design and the workings of your nervous system's three-dimensional, gravitational navigation system. 
The Human Frame uses the Feldenkrais Method® of neurophysical learning to guide you in re-tuning the relationship between coordination, equilibrium, and orientation. The curriculum consists of ten weekly Awareness Through Movement® classes about learning to harness your brain's inherent ability to learn and change. Every one of these unique, leading-edge lessons is done in a doorway. To make them relevant and instantly applicable, each class focuses on a specific aspect of everyday actions such as standing, sitting, or walking.
This series of contemporary ATM lessons are made to help you:
Uncover your blind spots.


Increase your movement vocabulary.


Reinforce your resilience.


Improve your balance and coordination.



Realize your innate potential for standing easily and walking well.
It is a portal, a gateway between one world and the next.
We can choose to walk through it,
dragging the carcasses of our prejudice
and hatred, our avarice, our data banks
and dead ideas, our dead rivers and
smoky skies behind us.
Or we can walk through lightly,
with little luggage,
ready to imagine another world.
And ready to fight for it.
— Arundhati Roy
The Human Frame is about more than using an ordinary doorway as a tool for extraordinary change. It is also about bringing what you'll discover during each lesson into your everyday life. To help you take your learning beyond the lesson, each class includes practical, easy-to-do labs to do on your own. 
So that you can review and redo the lessons at your own pace, whenever and wherever you like, your tuition includes access to the audio recordings of one of the live lessons each week at no extra charge whatsoever. You will be able to download or stream the recordings from the Mind in Motion online site.
What's more, you will have access to an online discussion group to share your experiences, questions, and discoveries with your classmates.
The challenge is in the moment;
the time is always now.
– James Baldwin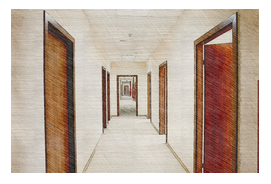 Because of the near impossibility of finding a room full of doorways, this course does not lend itself to a classroom setting. The advent of online learning created the perfect opportunity for offering these classes, which means you get to participate from the comfort of your own home.
Classes will be held on Zoom, a user-friendly meeting service that makes it possible to connect with people around the world from your computer, tablet, or phone. If you have never used it before, you can try it here: zoom.us/test.
Prerequisites
No previous

Feldenkrais

experience required. (So you know, these lessons ask for unusual positions of the arms, and most of them are done in a standing position.)


A computer, tablet, or mobile phone with a working camera and microphone.


Loose comfortable clothing that allows you to move easily.


A doorway that is wide enough to stand in comfortably and narrow enough to touch easily with your elbows and forearms.



A chair with a back and without arms (or wheels).
Public classes 
Classes meet for 60 to 75 minutes.
Each class is offered twice, at 9:30 AM and 7:00 PM on Tuesdays.
Classes meet ten times starting 30 June and ending on 1 September 2020.
Your tuition includes the attendance in either or both classes and the audio recording of one of the live classes.
$127  Early registration until 11:59 PM Tuesday, 23 June



$157 Thereafter
Mini-workshops 
The longer mini-workshop format affords a more in-depth, interactive, and personalized approach to The Human Frame than classic ATM lessons. 
Each meeting integrates the best aspects of online learning to help you get the most out of each lesson. Enrollment is limited to allow for individual coaching, specially designed exercises to facilitate carry-over, and discussion.
Mini-workshops meet for 75 to 90 minutes and include a short break.
The mini-workshops start at 9:30 AM Pacific time on Thursdays.
Classes meet ten times from 2 July to 3 September 2020.
Your tuition includes participation in either or both of the Tuesday classes as well at no extra charge. You will receive access to the audio and video recordings of the mini-workshop and the audio recording of one of the live classes.

$227  Early registration until 11:59 PM Tuesday, 23 June



$277 Thereafter
Participation is limited to twenty-four. 
Registration is on a first-come, first-served basis.
THE BACKSTAGE PASS
Whether you're wanting to improve how you teach ATM®, looking for inspiration, or seeking personal guidance in classes online, we are offering a BACKSTAGE PASS to The Human Frame (THF-BP).
This program is available exclusively to Feldenkrais® teachers and trainees. You are invited to join movement scientist and Feldenkrais trainer, Larry Goldfarb, Ph.D., and a select group of intrigued, interesting colleagues to:
Debrief what happened during each class.


Decode

the

ATM

lessons

.


Discuss the underlying pedagogy.
You will have a chance to consider the lessons, unpack what makes each ATM work, examine why they work so well together, participate in the conversation, and develop a deeper appreciation of the strategies, tactics, and techniques that comprise Moshe's method. 
Larry will let you in on his process of developing these lessons and constructing the curriculum. And he will support you in fleshing out your insights, developing your way of understanding, and integrating what you are learning into your personal ATM practice, classes, and creative process.
The BACKSTAGE PASS sessions happen from 4:00 to 5:45 PM Pacific time every other Thursday in conjunction with THF. You will meet with Larry and your colleagues five times over the course of the summer:
9 July
23 July
6 August
20 August
3 September
Your tuition for THF-BP includes participation in each THF-BP session and access to the audio and video recordings of the entire THF BACKSTAGE PASS program.

$227  Early registration until 11:59 PM Tuesday, 23 June

$277 Thereafter
Participation is strictly limited to 14 Feldenkrais teachers or trainees (who have completed at least one year of training). Registration is on a first-come, first-served basis. 
Please note that enrollment in The Human Frame summer 2020 classes or mini-workshops is required for participation in the BACKSTAGE PASS program. After you sign up for THF using your Mind in Motion Online Become a Better Teacher account, you'll be given the option to enroll in the THF-BP program (until the enrollment is full).
If you are a Feldenkrais teacher or trainee but you do not have a free BABT account yet, you can request one by clicking here.
Tuition and Participation Policy
There are no credits or refunds for any missed classes.


By registering for this class, you also acknowledge that 20% of your tuition is a non-refundable administrative fee.


Cancellation between the day of enrollment and up to 31 (thirty-one) days before the first class, your tuition minus the down payment will be refunded. Cancellations between 30 – 7 calendar days prior to the first day of class 50% of the total tuition will be refunded.


No refunds will be given for any cancellations received after 7 calendar days before the course begins.


No-Risk Guarantee

: If, after attending and participating in the first week, you do not want to continue, and if you notify the Mind in Motion office via email on or before noon US Pacific time on Sunday, 12 July 2020, we will

refund 100% of your tuition no questions asked within 7 business days.



To sign up for the course, you must agree to the participation agreement before you are taken to the payment page.
A bit of background
The Human Frame is Larry Goldfarb's 2020 almost annual Awareness Through Movement summer camp. For more than twenty years now, Larry has presented re-designed ATM series and, more recently, offered programs featuring entirely new lessons, such as those featured in The Peculiar Power of Prayer. 
Larry has been a pioneer when it comes to using technology to make learning the Feldenkrais way available and discovering how to use it to the student's advantage. It was during an ATM summer camp several years ago that Larry first introduced the possibility for students to participate via the internet. 
In the beginning, the only connection available was audio-only broadcast mode; you could listen to the lesson from wherever you were, but you couldn't see Larry or the class and he could not see you. By making two-way interaction possible, the advent of accessible and affordable video conferencing changed online ATM learning forever.  
The lessons in The Human Frame developed from the homework assignments Larry created for his private students and from his personal ATM practice. His interest in these lessons deepened as he put them to use recovering from surgery to his neck. Earlier this year, Larry taught these lessons online for the first time. He's excited to share the updated and refined versions of these ATMs with you this summer.