The Art of Teaching ATM® Online

Let's face it.
Teaching Awareness Through Movement® online is not the same as teaching in person. 
Instead of looking around the room to get an overview of how students are moving and find the outliers, the ones who are having difficulties or aren't quite following, your eyes have to hop between the views provided by each student's video feed. Some students are only partially in view. 
The quality of your student's movement goes from being easy to track to being difficult to detect.
The subtle cues provided by how a student is breathing disappear. 
When you and the students are in the same room, you can address someone by speaking in that student's direction, giving you a subtle way to guide an individual without the rest of the class being alerted or the person being called out publicly. You can interact with individual students in a quiet way, without drawing the entire class's attention. 
Does this mean it's impossible to teach ATM® online?
Not at all. 
The reason most educators struggle when they start teaching online is that they try to transfer what worked in the classroom directly into the online teaching situation. That just doesn't work.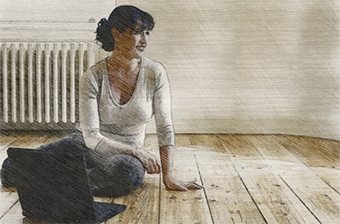 To teach ATM online — and to do it well — means you have to understand the unique and particular opportunities that distance learning has to offer. It requires rethinking what a teacher does and finding new ways of working with students.
When I started teaching over the Internet, first with audio conferencing and then with video meetings and an online school, there were no guidebooks or maps. I learned by trial and error. And there were plenty of errors. It took me a long time to discover the kinds of changes that this way of teaching requires. I've had to adjust my expectations, reimagine my role, find other ways to interact with students, and consider how they interact with each other and with themselves. Along the way, I've found a new way of bringing what we have to offer to the folks who want and need it. And I've discovered the delight that happens when this works.
If you're interested in finding out how to teach ATM online well and, yes, to even enjoy doing it, I invite you to join me online this weekend. I'll let you in on what I've learned, tell you what works, and show you how to make what we have to offer available, relevant, and useful.
So that you can participate at a time that's convenient, I'll be presenting this material twice. To make sure there's time to discuss and to learn from each other, the meetings will run for an hour and a half. Please click on one of the links below to register for the Zoom meeting of your choice:
The Art of Teaching ATM Online – Saturday
21 March at 4:30 PM California time
The Art of Teaching ATM Online – Sunday
22 March at 10:00 AM
It's a good idea to put the link you'll receive for the meeting in your calendar. That way you'll be ready to go when it's time for the meeting. Please log into the meeting a few minutes before we start — space is limited. If we reach capacity, then you won't be able to join us.
The meetings will be recorded. I'll make the recording of at least one of them available online at the beginning of next week. That way, if you can't make it to either meeting, you'll have a chance to check out the recording at a time that works for you.
Hope to see you online!

Last week, I mentioned that we're going to be making Moving Around, a new series of ATM lessons about the developmental transition from moving around yourself to starting to move yourself around, available soon. If you're interested, you can find out more information here. 
This ATM series was part of the curriculum of my recently graduated Amsterdam International Feldenkrais® Teacher Training, which follows a developmental trajectory for the first few years. That got me thinking . . . with all of us sheltering in place, wouldn't it be cool to offer an opportunity to do A TRAINING SEGMENT ONLINE? 
If the idea of doing a training from home intrigues you, please be on the lookout for my next blog.

This work is licensed under a Creative Commons Attribution-ShareAlike 4.0 International License
---
This blog may contain one or more affiliate links. When you click on a link and then make a purchase, Mind in Motion receives a payment. Please note that we only link to products we believe in and services that we support. You can learn more about how affiliate links work and why we use them here
---
Please share this blog post:
Your thoughts?
Please let us know your perspective! Add your comments, reactions, suggestions, ideas, etc., by first logging in with your Mind in Motion account. If you haven't created your free account yet, you can do so here.