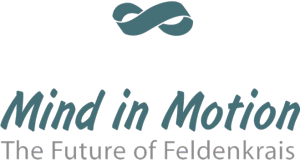 RETURNING TO THE SOURCE
A contemporary perspective on classic lessons
RETURNING TO THE SOURCE (RTTS) marks the beginning of Mind in Motion's new, state-of-the-art program, focused on Awareness Through Movement®, that is to say, how to promote, prepare, and present successful ATM® classes, series, and workshops. This introductory course answers the question:
What do I need to understand about an ATM® to teach it well?
In six presentations, Feldenkrais trainer and movement scientist Larry Goldfarb, Ph.D., focuses on the timeless lessons from the book, Awareness Through Movement. He tackles six of the ATMs – Coordinating Flexors and Extensors, See-saw Breathing, etc. - that Moshe chose to introduce himself and his method to the world. Dr. Goldfarb presents the culmination of what he's learned from doing ATMs for 40 years, teaching them for 35 years, training with Moshe and the founders of NLP, studying with other teachers and trainers, giving workshops at Guild conferences, conducting 15-day WORKSHOPS THAT WORK & 5-day ANATOMY OF A WORKSHOP postgraduate courses, and coaching teachers around the world.
Before you "look under the hood" of a lesson in class with Larry, you'll do have a chance to do it at home. He'll teach the first three ATMs live online on three consecutive Thursdays — 15, 22, and 29 March — at 10:00 AM Pacific. If you can't attend, you'll receive access to recordings. You'll also receive MP3 files of Larry teaching the other three lessons. In fact, you get two different contemporary versions of each of these classic ATM class. You'll also receive the MP3s of three fascinating mini-workshops in which Larry combines three of these lessons, showing how the ATMs can be taught together so that they build on each other.
During each class, you'll take a deep dive into just one of these transformative and all too often perplexing ATMs. Examining its specific tactics and techniques, anatomical and biomechanical underpinnings, and compositional structure as well as considering Moshe's personal history and professional formation, Larry reveals how it's designed to make learning happen. You'll learn the secrets to figuring out how any ATM is designed to make learning happen.
(He'll also suggest how you might apply what you learn to the way you teach ATM and practice FI.)
You will meet with Larry for seven live Question & Answer sessions, during which you'll get a chance to discuss the lessons with your classmates and have your questions answered. The first session will be a live introduction and orientation to the course. Each Q&A meeting is scheduled for approximately 60 minutes.
If the conversation is lively, Larry won't cut it off at the point. Because we know you're busy, we record these weekly Q&As. If these discussion sessions don't fit into your schedule or if, for whatever reason, you miss one, we make the recordings available online. That means you will be able to listen to them whenever and wherever works for you. If you aren't going to be able to join the conversation, you can send your questions to Larry ahead of time and he'll answer them during the Q&A. No matter which session you attend, you'll receive links to both Q&A sessions.
Monday at 6:00 PM Pacific
March 12, 19, 26
April 2, 16*, 23*, 30
*On these two dates, discussion sessions will meet at 1:00 PM Pacific
Wednesday at 9:00 AM Pacific
March 14, 21, 28
April 4, 11, 18*, 25*
*On these two dates, discussion sessions will meet at 12:00 PM [noon] Pacific
You can attend either discussion or both. The RTTS curriculum is designed so you don't have to participate in these discussions, making it possible to take course entirely as a self-guided program.
When you sign up for the class, you'll get:
Three (3) live, online ATM classes
12 (1) ATM classes — The recordings of the lessons — from the first times we offered RTTS — that you can stream or download.
Six (6) recorded class presentations during which Larry reveals the learning logic, anatomical underpinnings, and functional foundations of each lesson.
Seven (7) live online discussion sessions
Fourteen (14) recorded discussion sessions
Homework assignments to integrate what you've learned into your personal practice & your ATM teaching.
Free lifetime access to all the recordings.
The all-inclusive tuition for RTTS IV is only $397.
You can save enrolling before the early registration deadline — which is midnight next Thursday, 8 March — for only $347!
As of Friday, 9 March, the tuition is $397.
Enrollment is limited to 50 participants. Please note that the first times we offered RTTS, it sold out entirely before the early registration deadline!