Incompetent, irrelevant & immaterial
During the worst days after surgery, I wasn't up for doing much of anything, not even reading. I could muster enough energy and focus to watch TV. I was pleased to discover that Amazon Prime had the first five seasons — over 200 episodes! — of the classic Perry Mason series available for my viewing pleasure. This show was comfort TV for me when I was sick and had to stay home from school.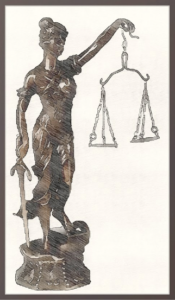 The first one-hour weekly series broadcast on television, this show features Erle Stanley Gardner's fictional lawyer Perry Mason. Played by actor Raymond Burr, who won two Emmys for his portrayal, the dark-eyed, brilliant Mason was known for defending the underdog, skirting the edges of the law, and eliciting surprising, dramatic in court confessions. But Mason was more than a lawyer; with the help of his private investigator Paul Drake (played by William Hopper, the son of famous Hollywood gossip columnist Hedda Hopper) and confidential secretary Della Street (played by the unforgettable Barbara Hale), Perry was also an incredibly insightful detective.
The recurring courtroom battles between Mason and District Attorney Hamilton Burger, played by William Talman, were one of my best-remembered, favorite aspects of the series. One of them would jump to his feet, objecting to his antagonist's question as "incompetent, irrelevant, and immaterial." When I watched the series as a kid I missed how much respect these two had for each other. This time around I saw past their constant sparring in court to realize their mutual admiration and their shared pursuit of justice.
The current impeachment politics on the nightly news provides a stark contrast to this cordial competition and shared dedication to justice. I know that Perry Mason's a fictional character, but I can't help but lament the lack of reciprocal respect and collective commitment to legal process and truth.
In celebration of the re-release of Foundations of Learning, if you purchase this digital learning resource before midnight California time this coming Friday, 13 December 2019, you will get a copy to share with your study buddy, colleague, or friend for free.

This work is licensed under a Creative Commons Attribution-ShareAlike 4.0 International License
---
This blog may contain one or more affiliate links. When you click on a link and then make a purchase, Mind in Motion receives a payment. Please note that we only link to products we believe in and services that we support. You can learn more about how affiliate links work and why we use them here
---
Please share this blog post:
Your thoughts?
Please let us know your perspective! Add your comments, reactions, suggestions, ideas, etc., by first logging in with your Mind in Motion account. If you haven't created your free account yet, you can do so here.