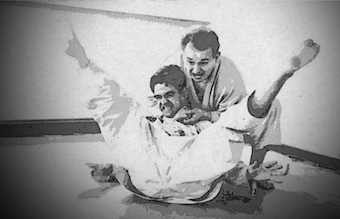 We just added the Awareness Through Movement® sequence Moving from Your Center to the Mind in Motion Online Shop. Until now, these lessons were only available to the folks who'd participated in The Bodywise Project last year.
Inspired by Moshe Feldenkrais' curriculum for the second year of the San Francisco teacher training, this program presents these rarely taught and profoundly transformative lessons in an accessible, user-friendly format. To read more about this series' background, please look at my earlier post about it, Finding center. 
The Moving from Your Center digital collection includes the 14 classes from the course, four bonus ATMs, and a new capstone composition to integrate the skills and themes developed in the program. This comprehensive collection is about getting to know and learning to efficiently coordinate the large muscles that connect your spine, chest, pelvis, and legs. 
Based on Feldenkrais' deep understanding of Judo, engineering, and the biomechanics of optimal human motion, this program can be the key to undoing the persistent patterns that cause or contribute to back problems and injuries, limit performance, and make life less pleasant. 
MFYC provides a step-by-step path to developing the ability at the crux of every martial art. These lessons allow you to experience your potential to:
Connect with your core.


Alter unconscious habits, release long-held muscle tension, and transform how you move.


Revitalize your self-image and enhance your kinesthetic sense.


Develop inner balance and strength.


Shift the locus of attention from behind your eyes to deep within the pelvis.


Improve the ease and fullness of breathing.



Discover your capacity for integrated, potent action.

Between now and Monday, 28 November 2022, our pre-holiday sale gives you 22% off every digital product in the Mind in Motion Online Shop, including Moving from Your Center!
To get the discount, use the code HappyHolidaze22 when making your purchases. Please be sure to enter the text exactly as written: the coupon is case-sensitive and has no spaces. You can buy as many items as you like, but you can only use the discount once.
The image at the top of today's blog started with a photo I found on feldenkrais.ch, the site of the Swiss Feldenkrais Association.

Your thoughts?
Please let us know your perspective! Add your comments, reactions, suggestions, ideas, etc., by first logging in to your Mind in Motion account and then clicking here.

Commenting is only available to the Mind in Motion Online community.

Join in by getting your free account, which gives you access to the e-book edition of Articulating Changes (Larry's now-classic Master's thesis), ATM® lessons, and more — all at no charge whatsoever.

To find out more and sign up, please click here.
---
Please share this blog post
---
This work is licensed under a Creative Commons Attribution-ShareAlike 4.0 International License
---
This blog may contain one or more affiliate links. When you click on a link and then make a purchase, Mind in Motion receives a payment. Please note that we only link to products we believe in and services that we support. You can learn more about how affiliate links work and why we use them here