Feldenkrais & the Martial Arts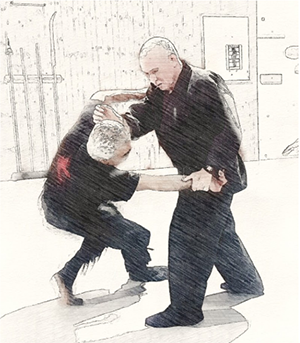 In February 2019, at the invitation of the Nederlands Feldenkrais® Vereniging and Mind in Motion, Moti Nativ taught a weekend workshop in Amsterdam about Feldenkrais and the Martial Arts. Moti is a Feldenkrais teacher with a unique background: a retired Colonel from the Israeli Defense Force, Moti trained members of the military in the martial arts. He is a Shihan in the Bujinkan school of Budo Taijutsu, has a black belt in Judo, and is a certified Krav Maga instructor.
Doing Awareness Through Movement® lessons, Moti couldn't help but recognize the concepts of judo and connections to its techniques. Curious about how this could be and how it came to be, Moti started to investigate the martial arts side of Moshe's life from 1920 to 1950. Studying Feldenkrais' collection of judo and self-defense books in detail and considering the content in the context of his writing and teaching, Moti identified the specific martial arts techniques, teaching methods, and theories that informed and influenced Moshe.


Historical research became a basis for embodied inquiry and practice: Moti used the moves as a kind of curriculum or roadmap. He learned the techniques and taught them to others, turning these ideas back into action in the dojo, and developing a feel, a kinesthetic, inside out understanding of what brought Moshe Feldenkrais to his method of learning and self-education.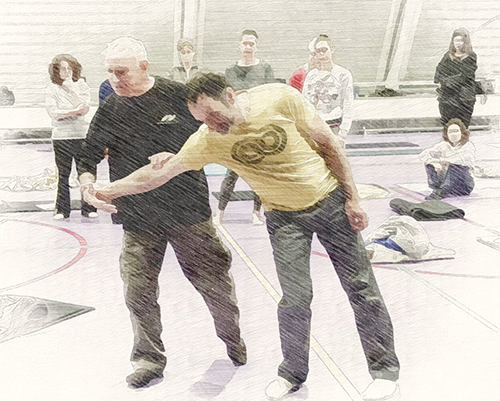 What's makes Moti's workshop remarkable is the vibrant, vivid, visceral way he brings this deep understanding of judo and its connection to life for the participants. The Awareness Through Movement® lessons lead directly to demonstrations, dialogue, and doing martial arts practice with a partner. Each time Moti proposes an exercise, he demonstrates a bit, you try it out with one of the other participants, he follows our efforts, reflects on his observations, and then he shows and says a little more, guiding, clarifying, nudging, refining, and illuminating. Flowing from finding efficiency on your own, for yourself, on the floor to then, upon standing, being "encouragingly challenged" to put that experience into action with someone else, is thrilling.


Experience rules. Concepts, demonstrations, talks — all contribute to building up an internal understanding of the basics of judo, including dynamic stability, spatial awareness, the link between coordination and strength. The way of the warrior — presence, attention, ability to stay calm when under stress or in an emergency and to respond in the moment — comes to life in the happening of these immersive moments.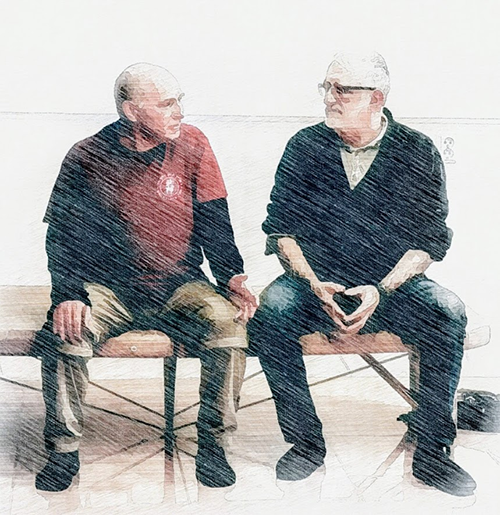 Having attended Moti's weekend workshop, the members of my fifth Amsterdam training — trainees, tutor teachers, support staff, and faculty — arrived on Monday eager to continue learning. The day began with Moti and me debriefing his workshop. Afterwards, he taught a couple more ATMs, connected them to developing a powerful punch and to learning Moshe's choke technique. Not only did the trainees develop a deeper appreciation of the foundation of Feldenkrais' methodology, but they also got to experience, firsthand, a prime example of the method's potential for teaching meaningful movement skills in a down-to-earth, practical, relevant, and transformational way.

This work is licensed under a Creative Commons Attribution-ShareAlike 4.0 International License
---
This blog may contain one or more affiliate links. When you click on a link and then make a purchase, Mind in Motion receives a payment. Please note that we only link to products we believe in and services that we support. You can learn more about how affiliate links work and why we use them here
---
Please share this blog post:
Your thoughts?
Please let us know your perspective! Add your comments, reactions, suggestions, ideas, etc., by first logging in with your Mind in Motion account. If you haven't created your free account yet, you can do so here.