Seems like we're all making phone calls and using online services to counterbalance the sense of isolation that comes with social distancing. I'm connecting across distances, short and long, with students and colleagues as well as with family and friends. 
I find myself more interested in hearing and seeing folks in real-time than in sending emails or messages back and forth. Somedays, I'm not up for facing the camera . . . but even on those days, I'm heartened to hear someone's voice.
While I tune into the pitch and timbre of someone's voice as well as to the sounds of their breathing, I've learned that other people notice different aspects of the auditory experience. Some of the folks don't catch the upper or lower registers, others are incredibly sensitive to static and/or background sounds.
Though teaching online is a visual medium, sound quality counts. A lot. If you didn't know that or if you forget it, you learn soon enough how much it matters. With brick and mortar stores closed or closing and online retailers starting to offer limited service for essential products only, what can you do if your computer microphone isn't up to snuff
To make our Mind in Motion team meetings better, — we are located around the world and we meet online — I got us the Krisp [Affiliate link*] noise-canceling app, a cloud computing software as a service (SAAS).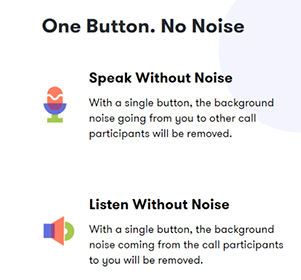 It uses artificial intelligence to improve the sound quality, both on the outgoing sound from your computer's microphone and on the incoming sound you receive. (Krisp works with computers running either the Windows or Apple operating systems; they have an iPhone app, but nothing yet for Android phones.) The outgoing sound cancellation is so good that others won't hear the dog barking in the background, the noise from the construction happening outside, or a young child playing loudly in the same room.
In recognition of the Covid 19 pandemic, the good folks at Krisp just doubled the number of weekly minutes — from 60 to 120 — in their free plan. They also reduced the price of their paid plans by 30%. And, if you're a teacher or a student with an email from an established educational institution, you can even get a free account. 
Whether you're teaching online lessons or connecting with family and friends, you might want to check out Krisp, especially since you can do so for free.
 * This is an affiliate link, meaning that Mind in Motion will receive a payment if you sign up for a paid Krisp account. Any monies we get will go to paying the bills and keeping the Lesson Locator free to use.